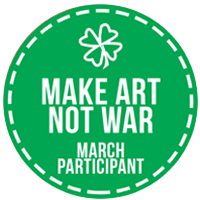 Yesterday was International Women's Day, and in recognition of all the hard-working women out there I opted not to post. I did (and still do) encourage Make Art Not War 2017 Challengers to find and signal boost a female creator. Ninety percent of the problem is a visibility or marketing problem, as opposed to a "female creators don't exist" issue.
Shifting gears, for today's post I want to list ten small tasks and mini-goals that you can do to help yourself in your career. You've heard the phrase "the devil's in the details"? To build a career as an artist, there's a thousand different levers and pulleys you can use at separate stages along the way. Some of those levers, like a means of contacting you, are definitely more important than others. Remember: your mileage will vary, and that's okay!
ONE: Link to (or create) a contact page. – If someone wants to hire you, do you have an easy way of contacting you? What happens when people Google your name? Are you accessible or does it take some work to find you? If you have a website, have a Contact Me page. Even if you have an agent, having a Contact Me page will clearly show how you prefer to be contacted–which is also very important for convention organizers.
TWO: Put together a press kit. – I'm at the stage in my career where this is something I need to do. A press kit collates information about you and your art in a digital file like a PDF. Great for convention organizers, press kits can also be useful for interviewers, editors, and other people looking to hire you.
THREE: Review your list of publishers to submit to on spec. – This task is more for writers than artists, but it can also apply to comic book people as well. The market is constantly shifting and changing, and sometimes it's worth reviewing your options. If you've been subbing to one market in particular and you haven't gotten anywhere, try somewhere else!
FOUR: Write "Don't Self-Reject" and post it visibly. The number one reason why I see artists get rejected over and over again, is because they internalize past rejections or they make decisions that stop them from applying or taking a chance. If you find yourself making up an editor's mind before you hit "send", think about sending it anyway. There's 1,000 reasons for rejection that have nothing to do with you, personally!
FIVE: Find a mentor. Mentors can be very valuable, provided you find a good one, because they can help you see that next step in your career. Who's available will depend upon your social networks, but they'll also vary based on when a particular artist or what-have-you became successful. The advice that was applicable twenty years ago may not work for you now.
SIX: Take a class to advance your skills and network. One of the things I've been focusing on lately as time allows, is to build up my local network of contacts. A class is one way of doing that, because it gives you the ability to nurture your underdeveloped skills in a classroom environment while providing some clear boundaries between yourself and strangers you'd meet. There are less expensive classes through community-based programs; think outside the box on this one. If you're budget-conscious, you don't have to take an accredited course–there's no "one way" to learn art.
SEVEN: Build a contemporary reading list. One safe way to get out of your comfort zone, is to find new authors (both fiction and non) to read that aren't in your preferred genre or field of study. If you're struggling to find the time to read and this seems like a lot of work, consider short stories, blog posts, or ask your online networks for suggestions. Then, give yourself half an hour to dive right in.
EIGHT: Embrace a creator's mindset. The mindset of a creator is very different from that of a consumer, because as a creator you are making something for other people to buy. Often, any time I bring up commercialism I hear the words "I don't want to sell out." Making art is work, and if you don't want to be paid for that effort that is your preference. I feel that if you are offering your work for sale, it's absolutely work that should be paid for. Once money exchanges hands, then the act of making art is commercial. There are a thousand things that happen between learning to make art and then selling art, and a creator's mindset can help you shift the focus so you remember your time is valuable. If you don't know what it means to be a creator, a great way to learn is by interviewing people you admire!
NINE: Form a support group to help shoulder the burden of stigmas. There are a lot of stigmas associated with making art, and many of them are mired in the idea that it's recreational, therapeutic, or less important than other jobs. Add your identity, class, working from home, traveling to conventions, etc. into the mix, and suddenly there's 1,000 reasons why you shouldn't be making art. To offset the negativity, I feel it's a very good idea to seek out like-minded artists so you don't feel so alone.
TEN: Learn basic business practices. The discussion about what is and what isn't professional can carry a lot of baggage, and I'm very sensitive to that. I look at it this way: by treating my art as a business, then I have some emotional distance to handle rejections and all the other bells and whistles that come from having this job. It's not sexy, it doesn't speak to the passion I feel for making art, and it's incredibly boring. What it does do, however, is set up a different framework for how I deal with publishers, editors, and agents so I remember how important my role is an artist. It does take work to be yourself and run a business, and that's something that will evolve over time. But, I feel you have nothing to lose by researching basic business practices for the simple fact that the people you'll work with are running a business–even if you don't see yourself that way.
If you're resisting the idea that you need to put yourself out there, remember: luck favors the prepared! You can't make your own luck, if you're sitting around waiting for something to happen. Sometimes, Fate needs a helping hand.
Mood: Looking forward to Pi Day
Caffeinated Beverages Consumed: Laughable
Work-Out Minutes Logged Yesterday: Laundry up to my ears
In My Ears: Totentanz (Dance of death)
Game Last Played: Dragon Age: Inquisition
Book Last Read: Reference for work
Movie/TV Show Last Viewed: Hacksaw Ridge
Latest Artistic Project: Make Art Not War 2017 Challenge and Rules
Latest Releases: In Volo's Wake for Dungeons & Dragons 5th Edition. Read my end-of-the-year list of releases for an overview of what I've put out for 2016.
Current State of Projects: Read my latest project update. New project update coming this month!