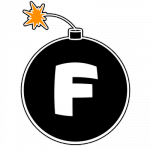 Inspired by Princess Alethea Kontis's goal to institute friendly friday, I'm pleased to highlight different creators, companies, and artists whose work I really enjoy on this, the day of Freya. I don't get the chance to squee as much anymore, and I really need that right now. (I had a post planned, in fact, but this particular squee is the kind of stress relief that money cannot buy.) Yes, there's a lot to be concerned about, but without any humor I'll devolve into a hot mess that can't be mopped up.
My friend Bill Bodden presented me with this particular beaut, and I thought it was fitting to end the week with a review of the plushtastic F-Bomb from Plushzilla.
First, I'd like to set the mood. The lights around you dim. You hear the slow, steady beat of a synthesized drum. Then, the ghost of Barry White materializes, and–
*cue loud record scratch*
Uh, let's try that again. Just a drum roll this time, I think. Perfect!
Presenting the F-Bomb
In the universe of the illustrious plushie, it seems that there is always another avenue of plush-tastic ideas to explore. Take for example Calcifer from Howl's Moving Castle who, sadly, does not have the fiery temperature of a demon as one might expect. And, the ever-popular Labyrinth worm that neither talks nor walks, who shall forever remain nameless doomed to a lonely existence outside the Goblin King's maze.
The F-Bomb is one such idea, and shares the Labyrinth worm's ineffectiveness as it does have several weaknesses. While sewn well, this F-Bomb is not explosive and can be dropped repeatedly and with vigor. In fact, this F-Bomb is so soft it can be launched at any unsuspecting target– even small children under the age of 3. To test this theory, I threw the F-bomb at myself; it felt as if a rainbow-colored unicorn had frolicked in a pile of rose petals and one just happened to land on my cheek. Yes, it was that soft, which leads me to believe this is not a mere plushie. Oh no, this F-Bomb is the avatar of the letter "F" in material form.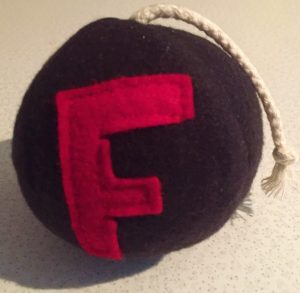 I was quite disappointed, however, to discover that the wick isn't a flammable incendiary device. It appears to be an intricate braid of hairs pulled from an ancient Viking's beard that was conditioned for days in almond oil, and then attached to the F-Bomb's butter-soft casing. The red "F" is also made from a similar material as its housing, and while that letter may well be dyed with the blood of someone's enemies, it's hard to say if that's truly the case. No wonder this F-Bomb doesn't come with a warning label!
The one upside to the F-Bomb, is that its name isn't something the nefarious Autocorrect will touch. In fact, one can freely say "F-Bomb" instead of the swear word it represents, which prevents quite a bit of confusion. After all, the word "duck" has a slightly different (and considerably more avian) meaning than the -uck beginning with "f", which makes it a poor, sorry excuse for an expletive.
And now, for a live action response to the F-Bomb. This is a picture of Captain Whinypants who is idly sitting next to the F-Bomb, but not on top of it, ready to toss it at a moment's notice.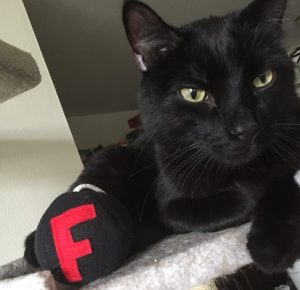 If the F-Bomb strikes your fancy, you can pick one up on Etsy. The store is taking a brief break because they're on the road. If you follow this link, you can sign up for updates and view the description.
Mood: Out of ducks
Caffeinated Beverages Consumed: 2
Work-Out Minutes Logged Yesterday: 20, but I did not get any Pokestops.
In My Ears: A fountain and a snoring cat. Would make a great picture book!
Game Last Played: Pokemon GO
Book Last Read: Aurora by Kim Stanley Robinson
Movie/TV Show Last Viewed: Thor
Latest Artistic Project: Make Art Not War 2017 Challenge and Rules
Latest Releases: In Volo's Wake for Dungeons & Dragons 5th Edition and Unknown Armies Books 1-3. Read my end-of-the-year list of releases for an overview of what I've put out for 2016.
Current State of Projects: Read my latest project update. New project update coming this month!