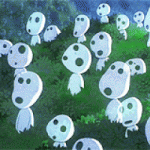 If you're embracing the monthly themes, then in January you found the value in PLAY. In February, you used that month to ORGANIZE, and in March you're thinking about ways to PLANT the seeds for your career or your future. On the surface, it might feel as if you're going too slow or you're not being productive because you're focusing on smaller tasks. You may not realize it, but all big projects–even writing a novel–can be completed by accomplishing mini-goals one day at a time.
The hidden value of planting seeds to further your career, however, is not the joy you get from seeing your progress or completing tasks–it's your fresh awareness of time. It takes time to paint, time to write, time to learn a new skill or technique, time to submit, etc. All of the little things you do to build a career adds up, and without realizing it you've spent the time required to do the work.
Often, the reason why new artists stop, start, and then stop and start again is because it seems as if success only comes to lucky people and it happens overnight. The truth about success, is that it does take time to master your art. Some say it takes ten years to achieve success, while others claim success is in the eye of the beholder. Regardless of what you believe, the missing component to achieving your dreams is often time; there are no shortcuts and so much is out of the artist's control. Even if you catch a lucky break, you still have to do the work in order to take advantage of that opportunity. To achieve your dreams there is only one constant, and that's to do the work and all the many little things that entails through deliberate practice.
This month's theme, PLANT, will help you establish a deliberate practice because you're thinking about all the small actions necessary to reach your goals. Then, once you're confident you've established (or re-secured) the needed discipline to make art and build your career, then you can look farther into the future and plan for bigger goals. After all, if you know you can do the work (or have the dedication to learn) it's that much easier to actually do it.
Mood: Pi Day!
Caffeinated Beverages Consumed: Enough that I'm floating
Work-Out Minutes Logged Yesterday: Work out? In a snowpocalypse?
In My Ears: Space heater
Game Last Played: Final Fantasy X-2: The Last Mission
Book Last Read: Black Unicorn
Movie/TV Show Last Viewed: Legend of the Seeker
Latest Artistic Project: Make Art Not War 2017 Challenge and Rules
Latest Releases: In Volo's Wake for Dungeons & Dragons 5th Edition. Read my end-of-the-year list of releases for an overview of what I've put out for 2016.
Current State of Projects: Read my latest project update. New project update coming this month!